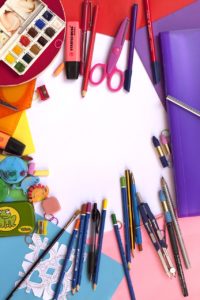 Full Circle is always in need of supplies for programs to aid in supporting our grieving families. We have provided a list of our most frequently use supplies below. Any donation of any kind is greatly appreciated and highly valued!
Top 10 Donations Needed
Paint Pens
River Rocks
Canvases
Mason Jars
Copy Paper
Paper Towels
Individually-wrapped Snacks
Juice Boxes/Capri Suns
Cases of Water Bottles (8 oz or 16 oz)
Gift Cards in any amount to AC Moore, Hobby Lobby, Walmart,
Target, Staples, or Amazon
You can drop them off Monday-Thursday from 9:30am-3:00pm or email Delaney@fullcirclegc.org to schedule another time. Drop-off is at:
10611 Patterson Avenue, Bldg 201
Richmond, VA 23238
(behind the 7-11 at the intersection of Pump and Patterson)
Thank you!
Coordinate a Supply Drive
Contact Holly Hamilton to learn more!
holly@fullcirclegc.org
Circle of Giving
Circle of Giving is a gift drive with a goal of providing gift bags to each of our Hands on Healing families as they "graduate" from our groups in the upcoming year. These gifts provide our families with the tools to continue the healing process at home using the healthy coping skills and creative expression they learned at group. Please consider supporting our 2016 families through this program.
---
Join our Circle of Giving campaign!



Circle of Giving "Hands on Healing Bag"
These bags are gifted to each Full Circle family at the end of their eight week Hands On Healing session (we run approximately five sessions of Hands on Healing at our Center per calendar year).

This gift will acknowledge how far they have come in their grief journey and will help them continue using the same skills and strategies at home that they learned at Full Circle.
New this year, our primary focus is on books! We have found the gift of grief-themed books to be one of the most valuable tools we can give our families. Our goal is to provide each group participant an age-appropriate book at the conclusion of their eight week group.
Option 1: Collect each of the following supplies to create one complete Hands on Healing Bag. (Full Circle will provide the gift bag and assemble the bag.)
One Children's Book (from wish list)

One Teen Book (from wish list)

Two Adult Books (from wish list)

Two Small 4×6 Photo Albums

Four Blank/Lined Journals or Sketch Pads

One Set of Colored Pencils

One Set of Washable Markers
Option 2: Collect 15 of any item from the list above to help assemble the 15 bags that are needed for the 15 families that participate in each 8-week session of Hands on Healing.

Option 3: Donate $100.00 to cover the cost of one Hands on Healing Bag and Full Circle will purchase all supplies and assemble the bag for you!
I would like to donate the following:
Option 1: One Complete Bag
Option 2: Fifteen of any item:_____________________________
Option 3: Cash/Check donation to buy one complete bag (Amt donated:_______)
Questions?
Contact Delaney Mescall at 804-912-2947 ext 103
---
Full Circle Grief Center
Circle of Giving Book Wish List
Books for Children:
Many Colored Days – Dr. Seuss

Chester Racoon's Acorn Full of Memories – Audrey Penn

Invisible String – Patrice Karst

Wherever You Are My Love Will Find You – Nancy Tillman

Splat the Cat Dreams Big – Annie Aurbach
Books for Teens:
Any Mandala Coloring Books or Young Adult Coloring Books

The Healing Book – Ellen Sabin

Healing Your Grieving Heart for Teens – Alan Wolfelt

Healing Your Grieving Heart for Kids – Alan Wolfelt
Books for Adults:
Any Mandala Coloring Books or Adult Coloring Books

Healing a Spouse's Grieving Heart – Alan Wolfelt

Angel Catcher – Kathy & Amy Eldon

Healing a Parent's Grieving Heart – Alan Wolfelt

Are you purchasing your books through Amazon? If so, please consider visiting smile.amazon.com and designating Full Circle Grief Center as the organization you support. Amazon will donate a portion of your spending back to Full Circle!