Give LOCAL. Support LOCAL.
Full Circle operates solely from the generosity of individuals, partner organizations, local businesses and foundations. We DO NOT receive any government funding.
Our largest fundraiser of the year, the Annual Live Your Dash Luncheon, was postponed due to COVID-19 and we are asking for your help to bridge the gap in that funding so that we can continue offering much-needed programs and services to the RVA community. Your gift matters.
---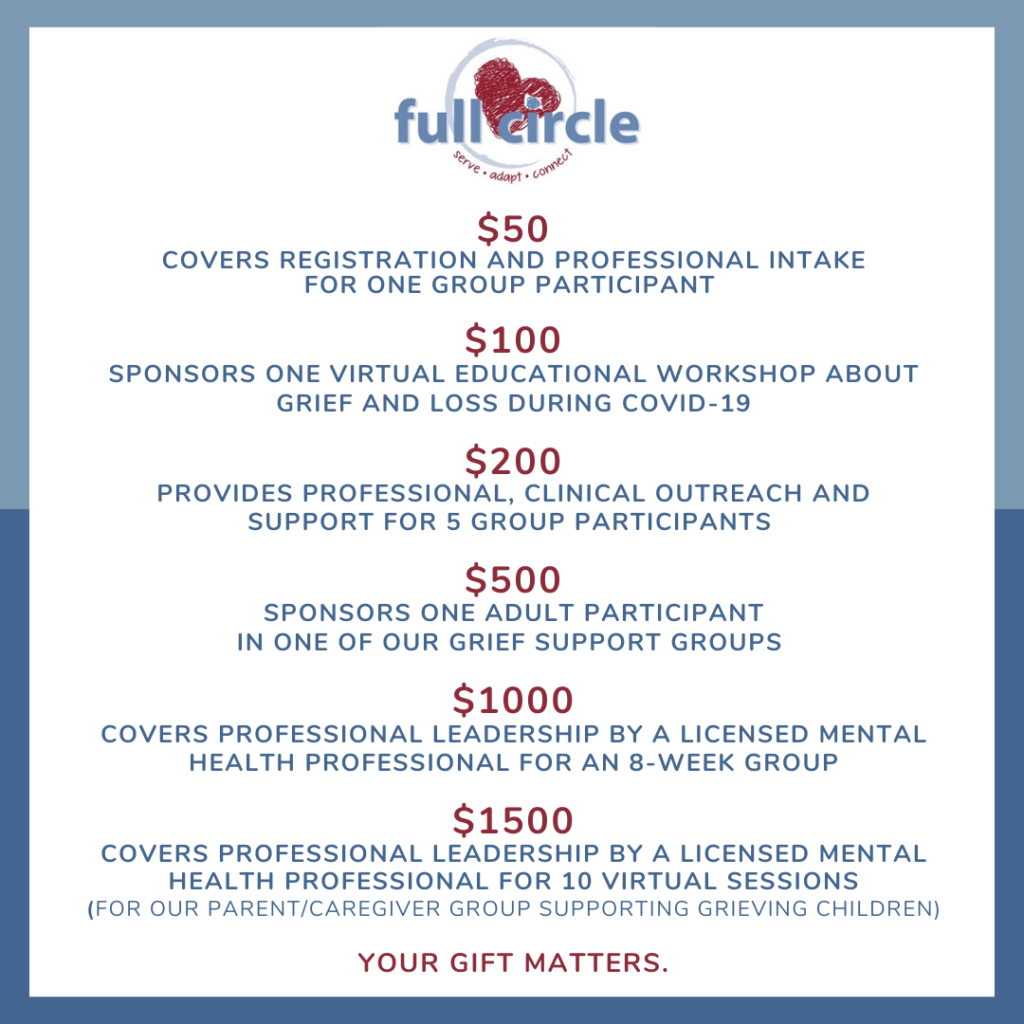 Your gift will go towards the following:
Grief Support

Our previously scheduled groups (Overdose Loss, Suicide Loss, Perinatal Loss and Hands On Healing) will continue for the Spring and will be conducted virtually via Zoom.
We will continue providing crisis support and case management to all current participants, and bereavement consultations, via phone or Telehealth appointments.

Individual Counseling

Our licensed therapists will continue conducting individual counseling appointments via Telehealth.
We are accepting NEW clients and expanding our services to underserved areas in the state of Virginia.

Grief Education

We will continue offering monthly grief education programs through Zoom.
Our website and social media platforms will consistently be updated with helpful resources and educational materials.

Preparation for the Future

We are creating a community response plan in the event RVA experiences widespread loss due to COVID-19.
We are expanding our virtual educational programs to support the mental health needs of our community.
---
To support us financially:
Make a one-time donate with PayPal, Credit Card or Debit Card.
Set up a recurring, Monthly Donation by clicking the DONATE button and selecting "Make this a Monthly Donation" or by emailing our Financial Coordinator at karen@fullcirclegc.org.
Make a gift in honor or in memory of a loved one. Please include the name of your loved one in the "Write a Note" field.
Donate by transferrring Shares of Stock can be processed by emailing our Development and Events Manager at nikki@fullcirclegc.org.
---
You can also mail a check to:
Full Circle Grief Center
10611 Patterson Avenue, Building 201
Richmond, VA 23238
---
Full Circle is the only comprehensive, long-term bereavement center in Central Virginia. We are an independent 501c(3) nonprofit whose mission is to provide comprehensive, professional grief support for children, adults, families, and communities. Families come to Full Circle from throughout Central Virginia in order to access our groups.
---
Full Circle has earned the GuideStar Exchange Seal, demonstrating our commitment to transparency. To see Full Circle's complete GuideStar/GiveRichmond portrait, click here.