This month, our Staff Spotlight is on Ruth Saunders, M.Ed, Licensed K-12 School Counselor and Hands on Healing Group Leader.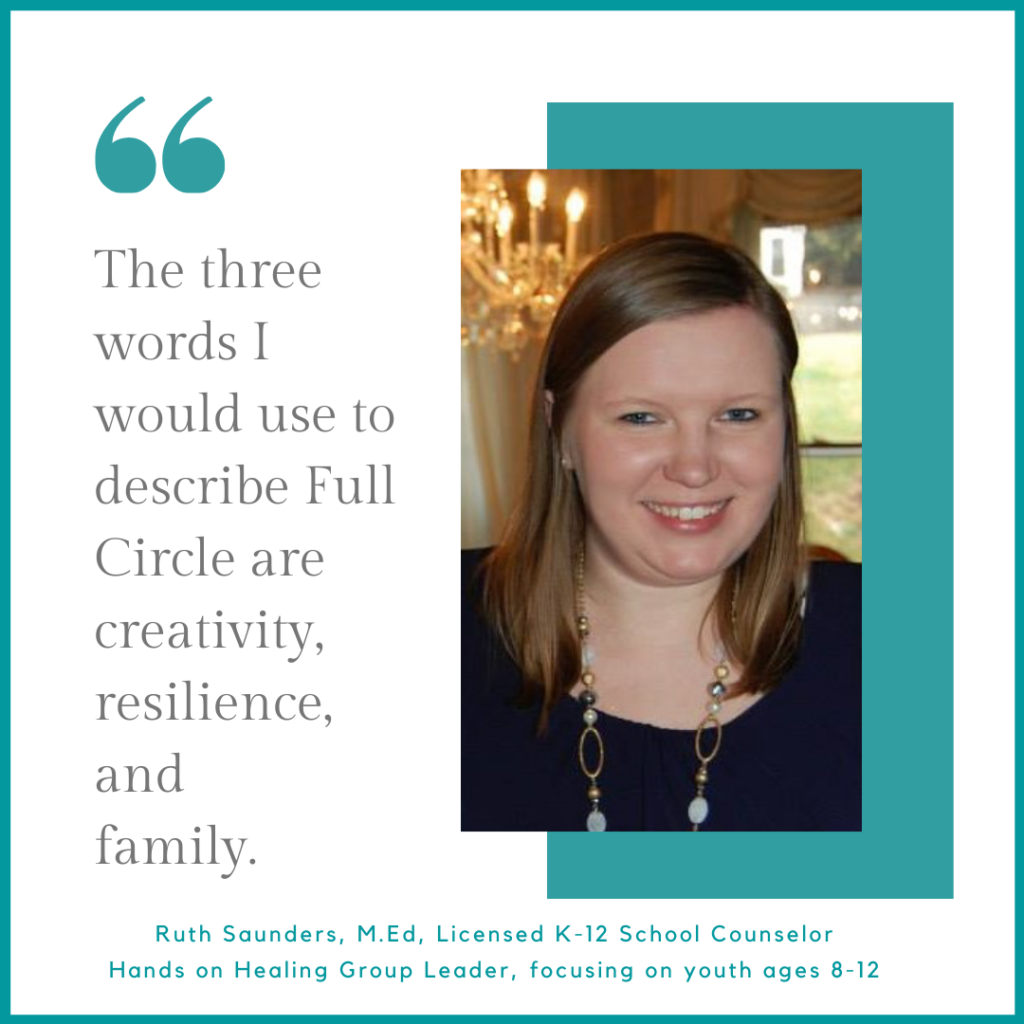 What Makes Full Circle Unique?
Full Circle creates a community experience for bereaved families. In the Hands on Healing program, grieving families come together for eight weeks over dinner and small and large group activities. Participants can engage with Full Circle in a variety of ways including Hands on Healing sessions for families, loss-specific adult groups, educational services, and individual counseling while also taking part in fun community events such as the Round Up the Family 5k.
Share A Memorable Experience.
One of my favorite things about Hands on Healing groups is the connection that forms between children who are grieving. Before coming to Full Circle, many of our young participants may not know any other young people who have experienced the death of someone close to them.
It is so powerful to hear participants say things like, "Your sister died too?" or to have a group of middle schoolers all share how hard it is to feel like everyone is looking at you because you had a family member die.
In one session, a group of upper elementary and middle schoolers were able to vent their frustration about hearing comments like "I know how you feel, my hamster/fish/turtle died." While the sentiment was well-intended, participants felt that these kinds of comments minimized their own grief experience.
A Memorable Remembrance Project
One of my favorite things to do with kids, particularly in the winter sessions, is to read the story "The Snowman" by Robin Helene Vogel in which two brothers discuss their father's death while building a snowman with some of his old clothing and belongings.
After reading the story, each participant makes their own snowman from cotton balls to remember the loved one they lost. I like to see the different ways kids memorialize their loved one through the creation of the snowman with its eye color, special buttons, or other unique features.
Where Is Your Favorite Place To Be?
I love to be outside near the water. One of my favorite things about Richmond is the access to the James River. I love spending time in the James River Parks System and visiting spots like Pony Pasture, Belle Isle, and Brown's Island.
Thank you to Ruth Saunders, for her dedication and commitment to our mission here at Full Circle.